July 17th (Lights Out)
July 17, 2012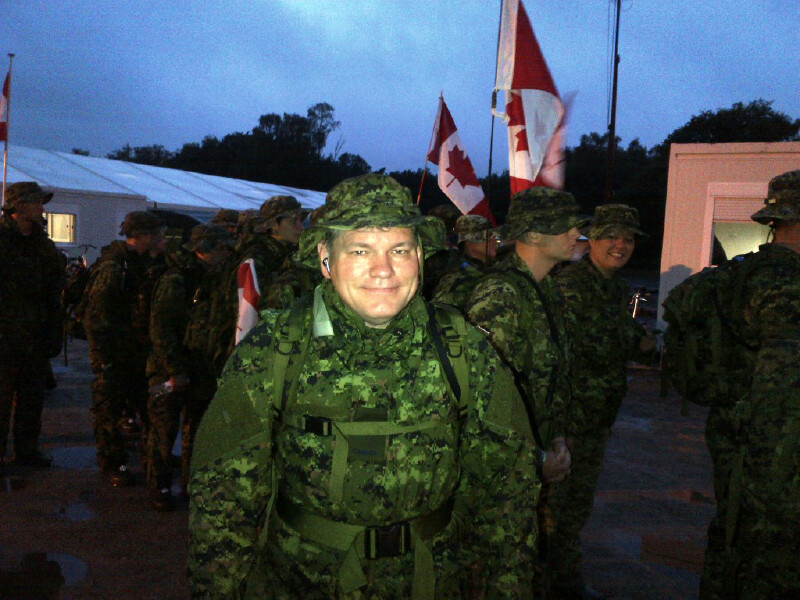 Well it is July 17th and I am sitting in my bunk reflecting on a tiring but amazing day.
To start off with, you should know our troops did spectacularly well. Each team had a variety of great marching tunes and it was fun to listen and watch them interact with the locals.  The one group which really impressed me was the "The Soldiering on team"  – a group which consists of soldiers who have a variety of illnesses and injuries.  They have used the march as a goal to help overcome the challenges they face.  Amazing individuals!!
We had a 4 am wake up and went through the process of a quick bite, change, morning prayer and then getting in formation for our 6 am march start time.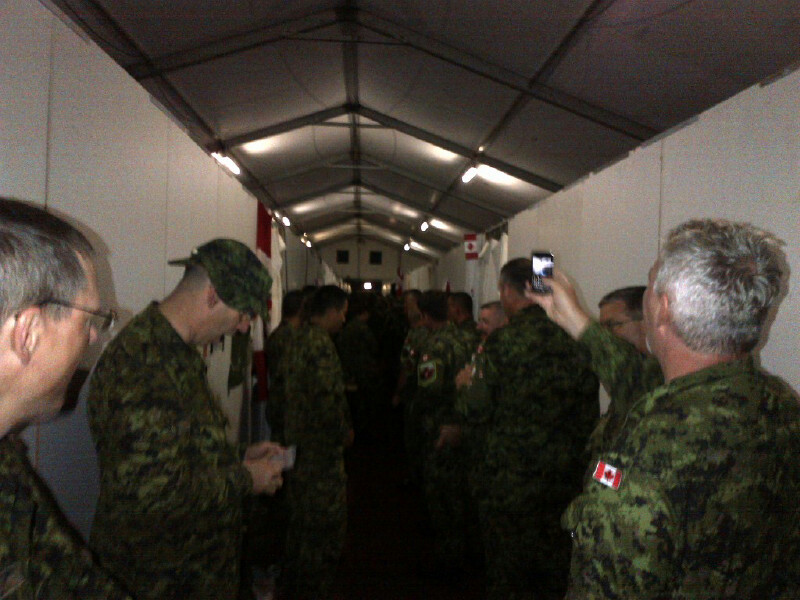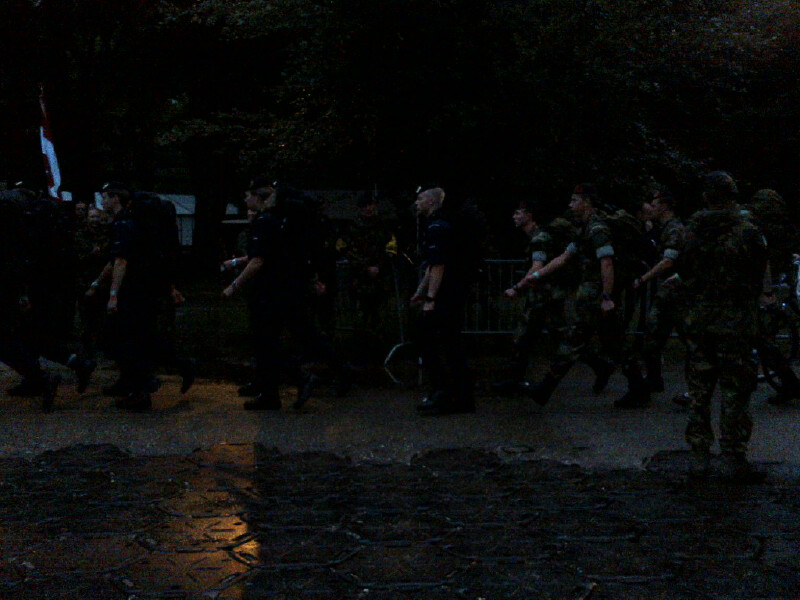 Our camp is located approx 5 km out of Nijmegen,  so we marched to and through downtown Nijmegen in the drizzle/rain.
There where supporters sitting on the sidelines on lawnchairs, couches (and standing) cheering us on.  A lot of high fives and vocal encouragement were received, with a few of the soldiers getting hugs and flowers.
At Nijmegen, we were joined by individual marchers – 40000 people walking being cheered on by 1000000 spectators .  There were bands playing, local media broadcasting and everyone was in a festive mood.  As we proceeded out of Nijmegen, the site was amazing…it looked like a long rope of people walking and talking.  The locals offered us candies, drinks and fruit, and the kids high-fived us and sought out Canadians and others for pins and flags.
By midday the sun appeared – the temperature was a perfect 19 degrees.  We didn`t like to stop unless absolutely necessary. If you stopped, your muscles turned cold and stiffened up. So we tried to drink and eat on the fly.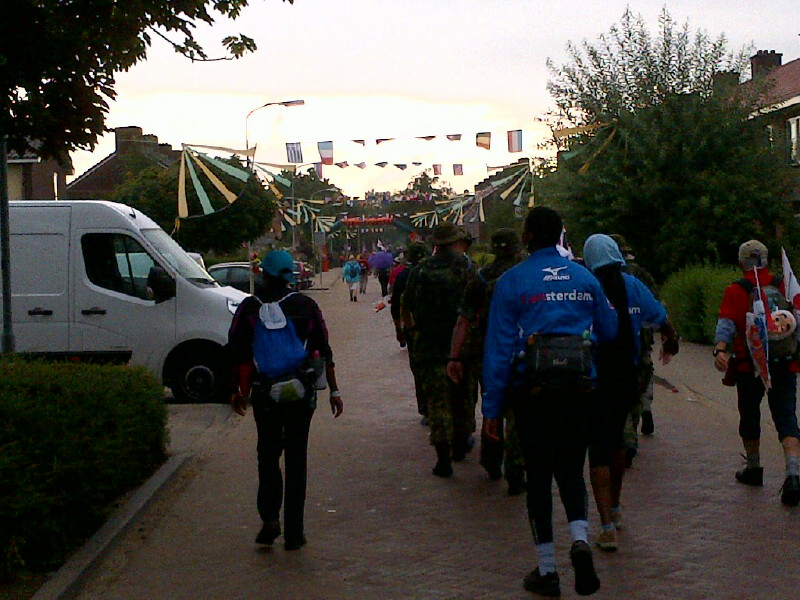 I must say I was very happy to see the finish line.  At about 40kms, I felt what seemed like an electrical shock in my right little toe.  There was no way I was stopping, as it is problematic to remove a boot, as the possibility of swelling is great.  So I sucked it up and walked through the pain.  After about 5 minuntes, the electrical feeling dissipated, but I knew it was either a blister or tow nail coming off.
Crossing the finish line was a joyous feeling.  My team and I finished with a pace of about 5.3 km an hour.  I must say that for the last 4 kms, there where many non-Canadian soldiers limping and struggling to get over the line.  Everybody would encourage them and cheer them on!
After the march, we headed back to the Swamp (MASH term for our bunks) and engaged in a beverage while soaking our feet in a pool of cold water….ahhhh.  I then proceeded to go and see the medic and deal with my little toe.  It turned out to be a huge blister that popped while walking.  The medic proceeded to treat the nail and blisters and somehow relieve the pain.  They have some new ways of taping that they have learned from the Dutch that is amazing.  It took the close to 2 hour to re-tape and treat my feet.
After laying in the medics bed it was tough to stand, but after walking around and some stretching I limbered up rather well, and amazingly, no pain in my feet.
Most of the teams are now sleeping.  Ear plugs are blessing, as a few of guys (and gals) snore very loud.  We have completed Day 1, and tomorrow morning wake up is 3am.
Good night from Nijmegen