Her Majesty Queen Elizabeth II Diamond Jubilee Recipients
December 21, 2012
Her Majesty Queen Elizabeth II celebrated her Diamond Jubilee in 2012, marking the 60th anniversary of her reign.  The Queen has dedicated her entire life to the service of others, and has always held our country and all Canadians in the deepest pride and affection.
This is a truly special occasion.  Only once before has our monarchy celebrated a Diamond Jubilee in 1897, under the reign of Queen Victoria.   And it will not happen again in our lifetimes.
It was Her Majesty Queen Elizabeth II`s wish that this special anniversary be used to recognize the many people in the Commonwealth who dedicate themselves to service in their community.  So it is most appropriate that the following individuals are recognized as they have made a mark on our communities because they have served others with passion and compassion.
Only 60,000 Canadians will receive one of these Medals.  And while that seems like a large number, it is a very exclusive group when you consider that millions of Canadians volunteer time and talent day-in and day-out.
I had the privilege of presenting individuals (in alphabetical order) from our riding with Queen`s Diamond Jubilee medals on the 23rd of November in Tisdale and on the 24th of November in Prince Albert.  I thank them for making our community a better, safer and stronger place.  I will be presenting Queen`s Diamond Jubilee medals to four additional individuals at a later date: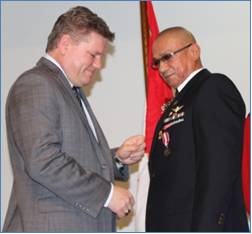 Ross Alexson was nominated for his volunteer work and community service. Ross is a veteran, who enrolled in the Canadian Military at age 20 as a member of the Canadian Airborne Regiment.  He is a Warrant Officer with the Comissionaires and a member of the Saskatchewan Native Veterans.  Ross is well known within the  Prince Albert Parkland Health region.  He is always willing to give a helping hand to assist staff with patients,  residents and their families.  Ross' commitment extends to the local veterans who he escorts to functions they would not be able to attend without his assistance.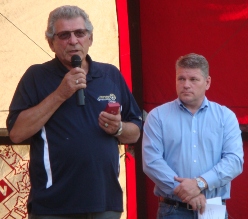 Chief Austin Bear is currently serving an unprecedented eleventh term (22years+) as the Chief of the Muskoday First Nation. He is active in promoting First Nations' traditions and culture and believes that the involvement of Elders and youth is essential in all aspects of community life. Chief Bear is highly respected in his community and across Canada.  He tirelessly works for the betterment of First Nations people.  His leadership has been key for the long-term success of the Muskoday First Nation. 
Larry Brewster is a committed and outstanding volunteer.  He has been a successful self-employed business owner for 19 years.  He is passionate about his community, province and country.  Larry commits his volunteer time sitting on the executives of Synod Office for the Diocese of Saskatchewan, the Vestry Executive for St. David's Church, St. Mary's Cemetery.  Larry was instrumental in the success of the 50th anniversary of St. David's Church.  He is also a strong supporter of our veterans and military.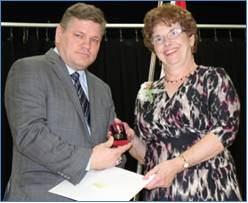 Darlene Campbell is a committed volunteer and involved in many community organizations.  Her commitment has not gone unrecognized.  She was recently awarded the Leadership award by Premier Brad Wall for volunteerism.   Darlene is leader in organizing several events,  whether for the Rotary Club or for her local Church.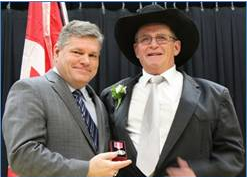 James Chute is a well known musician and entertainer.  Performing music and fishing are his passions.  Jim was instrumental in creating the Nipawin Vanity Cup fish tournament, which is the largest walleye tournament in Canada.  He was a key organizer in this past summer's Wounded Warrior weekend with his friend Blake Emmons.  Wounded Warriors started as an idea while Jim and Blake were chatting around a fire.  The Wounded Warriors Weekend hosted over 100 soldiers in Nipawin, Saskatchewan.  The event is in plans to become a regular event.
David Cook was instrumental in the establishment of Farm World in Kinistino, Saskatchewan.  Farm World has grown into a very successful business and continues to support the local economy in Kinistino.  Dave was very innovative in his business.  As a pilot, he was known to fly all over Saskatchewan to assist farmers.  He pioneered the practice of flying mechanics into farm fields to assist farmers to ensure as little downtime as possible.  Before Dave retired,  Farm World expanded to into Humboldt, Saskatchewan and Prince Albert, Saskatchewan.  He is strong believer in his faith and family.  He has also been an enormous supporter of his local community of Kinistino.  
William (Bill) Cooper is a mentor to many within Saskatchewan`s agricultural sphere.  The premise of Bill`s career has been focused on creating new opportunities for Saskatchewan farmers and removing impediments to growth in agriculture. He was a dedicated advocate for changing how grain is handled and marketed in Western Canada. Bill has dedicated much of his time to organizations such as the Saskatchewan Canola Growers Association and the Western Canadian Wheat Growers.  He was inducted into the Saskatchewan Hall of Fame in 2000.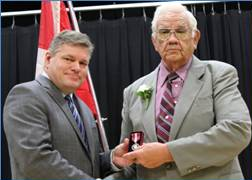 Dale Debienne is a committed and active community supporter in Carrot River.  He and his wife own DBN service.   He has served on town council for over 16 years and he has been a member of the Town's volunteer Fire Department for 22 years, including 10 years as a first responder. He has also been a member of Carrot River`s Community Justice Committee for 10 years and sits on the boards of Pasquia Trust and Carrot River Credit Union.  DBN Service is also a supporter and sponsor of local sports teams and various events at the Pasquia Regional Park, including golf tournaments.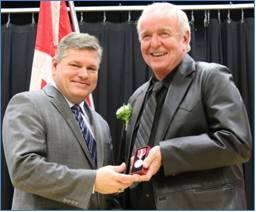 Blake Emmons is a Canadian country music singer and entertainer.  Blake has appeared in several television shows on both Canadian and US networks. Blake has been twice honored with the "Golden Heart Award" by Variety Children's charities for his work on behalf of children.  He has also been honored by the USO for his musical work in support of the troops during Desert Storm.  Most recently Blake was instrumental in organizing the very successful "Wounded Warriors Weekend event " in Nipawin, Saskatchewan with his friend James Chute.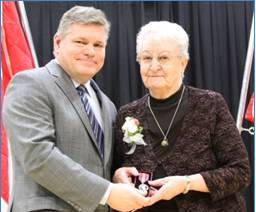 Alice Fyfe has given the Town of Nipawin and the region of Northeast Saskatchewan a lifetime of volunteerism.   She worked at Pineview nursing home in Nipawin for several years, and was active in the Town`s Baptist Church.  She also ran a small store in Ridgedale, Saskatchewan.  Alice, as is also as one of the original members of the now defunct Reform Party movement in Saskatchewan.  She is known as the matriarch of the movement throughout Northeast Saskatchewan.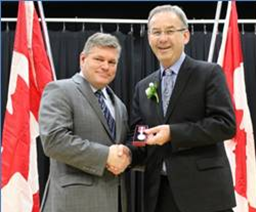 Rod Gantefoer served as a member of the Legislative Assembly of Saskatchewan for 16 years.  His experience as Saskatchewan Finance Minister and Government House Leader, as well as his many years of public service has earned him national recognition. Rod is now the Executive Vice President of the STARS Foundation.  He was very instrumental in the launch of the STARS program in Saskatchewan.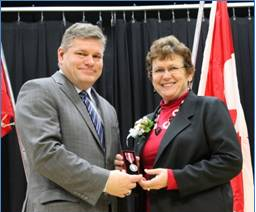 Cheryl Gudmundson is the co-ordinator for the Tisdale and Area Community Action Co-operative.  Cheryl is committed to helping maintain the following programs in the Tisdale area – Good Food Box, Community Gardens, Collective Kitchen, Kids Kitchen, Healthy Parents & Healthy Babies.  She also serves on numerous local, regional and provincial (healthy, accessible, affordable) food based organizations, and on the Tisdale United Appeal.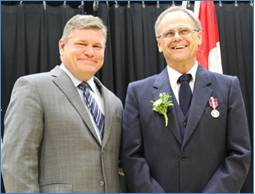 Richard Hildebrand moved to Tisdale in 1981 to teach school, making Tisdale his home.  He became very involved in his local Church as well as in several organizations.  He committed over 30 years in coaching and officiating local high school sports such as football, basketball and volleyball.  Richard is also a very committed member of the Tisdale Lions, Knight of Columbus, and works tirelessly for the community.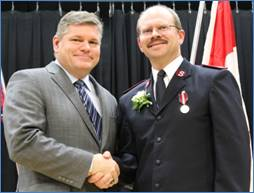 Major Michael Hoeft was instrumental in the revitalization of the Salvation Army stores and Churches in Melfort, Nipawin and Tisdale.  He was also very involved in the food bank program`s reorganization.  Michael chairs Kidsport in Melfort, is involved in the Melfort Jumpstart committee, and is a member of the Northeast Newcomers Services Regional committee.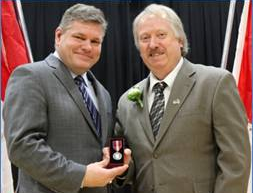 Christopher Hudyma was the manager of the Nipawin Oasis, an organization which assisted the underprivileged to learn employment skills and to develop life skills in order to become active citizens and residents.  . Chris also took on the initiative to bring Habitat for Humanity to Nipawin, Saskatchewan through its Prince Albert office.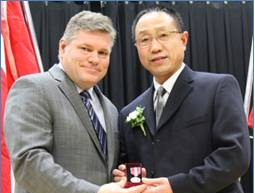 Cao Chun Hua – In September 1988 Hua immigrated to Canada from China.  He established Ag-Vision Seeds Ltd. In Carrot River, Saskatchewan.  Under Hua`s ownership and management, Ag-Vision Seeds grew into an aggressive, multifaceted seed company.   It is now a major employer within Carrot River.  Hua continues to work hard at producing, processing and marketing his company`s products globally.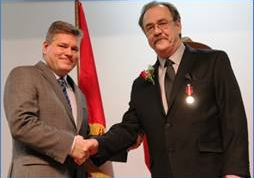 Reginald Hamlyn was nominated for a Queen`s Diamond Jubilee Medal for his commitment to his  community of Paddockwood,  and for his volunteer work.  Reg is a Director of the Lakeland Volunteer Fire Department.  He is very involved with volunteering and has served in several capacities with the Paddockwood Legion and the Paddockwood Seniors Club.  He also served as a Cub Scout leader.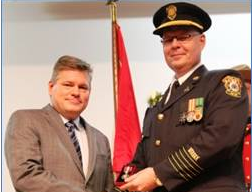 Les Karpluk began his career with the Prince Albert Fire Department in 1982. In 2006 he was promoted to Fire Chief.  Les is an enthusiastic leader. He has received several recognitions and medals, including: Medal for Member of the Venerable Order of St. John, Federal Fire Services Exemplary Service Medal, Saskatchewan Fire Service Exemplary Service Medal, CAFC Chief Fire Officer Designation, and 2009 Career Fire Chief of the Year by the Canadian Association of Fire Chiefs.  Les has been a speaker at numerous conferences across Canada and is a regular contributor to Fire Chief and Fire Fighting in Canada.  In addition to writing trade articles, he Chairs the Canadian Association of Fire Chief's.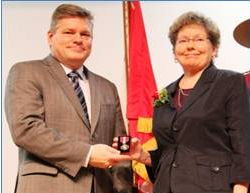 Clara Kutnikoff has a passion for music and she loves to play piano.  She has been kind and generous through the sharing of her musical talent and passion.  Clara influenced many young students lives as a full-time music teacher.  Although retired, she continues to play piano for two churches in Prince Albert, as well at several funeral chapel services.  She also provides musical entertainment in various nursing and special care homes throughout the area.
As a member of the Army Lord Strathcona Horse (Royal Canadians) armoured regiment, Edmour L'Arrivee served in Canada, England, France, Belgium, Germany and Holland. Edmour has been a member of the Royal Canadian Legion for 66 years.  He also served as the Reeve of the Rural Municipality of Arborfield #456 and on the St. Lucy's Parish Board. On February 13, 2013, Edmour celebrates his 97th Birthday.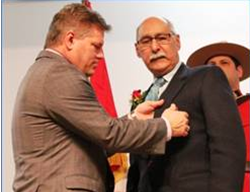 Floyd LaVallee was nominated for his commitment to the Army, Navy, Airforce Veterans Organization.  He has received numerous medals and certificates for his dedication to the ANAVETS.  Floyd has served over 30 years in ANAVETS, which included 10 years as President of Unit 222 in Prince Albert.  He is also an active member of the St. Michael's Roman Catholic Parish serving in several capacities.  He has been a committed volunteer for the Meals on Wheels for over 15 years.  He has also served as a volunteer with the Prince Albert Parkland Health District for over 10 years.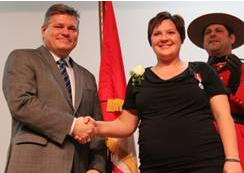 Sgt Rhonda Meakin has served as the School Liaison Officer in Community Services and as the Sergeant in Charge of Community Services for the Prince Albert Police Force.  She was instrumental in working with the Ministry of Social Services to create an Integrated Child Protection Unit which saw the PA Police service take 2 social workers directly into their organization to deal with child protection issues.  She is a dedicated and civic minded police officer whose selfless devotion is evident to the community of Prince Albert.  She stands as an example for her peers and fellow citizens.
 Gary Meier was awarded the Queen`s Diamond Jubilee Medal for his committment to Canadian Agriculture. He has been active in a number of farm related organizations dedicated to improving the viability of agriculture in Western Canada through improving the qualifty of soil resource.  Garry has served as the Saskatchewan Soil Conservation's Regional Soil Conservation Specialist for Northeast Saskatchewan.  In November 1993, he was presented with the W.R. Motherwell award as one of Canada's Outstanding Young Farmers.  In February 2006, Garry joined Bourgault Industries as the company's Agronomy Team Leader.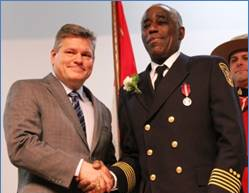 Jim Miller is a tireless volunteer for the Buckland Fire Department.  Jim is self-employed, which allows him the time and commitment he gives to Buckland through responding to emergencies in moments of notice.  He has served over 18 years with the department and was instrumental in growing into what it is today.  He is described by his team as a visionary and is highly regarded and respected by his peers for his work and leadership.  He was instrumental in working and developing mutual aid with surrounding departments to assist in not only fires, but other emergencies.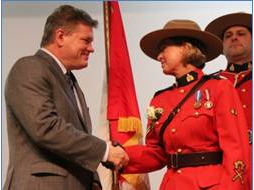 Cpl Erin Neggers was nominated for her volunteer commitment beyond her regular duties with the RCMP.  She is very active volunteer who revived and ran a local turkey shoot fundraising event which raised local funds for various charities.  She has attended several Saskatchewan Order of Merit ceremonies and other red serge duties at the Saskatchewan Provincial Legislature in Regina.  She been actively involved in organizing and coordinating several events for the RCMP , such as its Sunset Ceremonies, its Rifle and Revolver Club,  as well as national and local shooting competitions.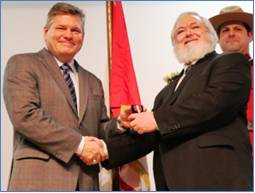 Frederick Payton was nominated for his time and commitment to the community of Prince Albert by ensuring there is safe, affordable housing and services to the under-privlidged.  Fred works tirelessly to make Prince Albert a more caring community.  He volunteers for his local Church, is a member of St. Mary's Cemetery Board, and is a member of the Prince Albert Historical Society. He also volunteers for the Victoria Hospital in Prince Albert and at the SPCA.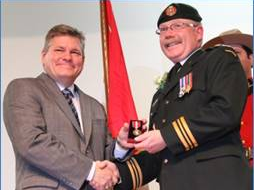 Rev. Dr. Sandy Scott serves St. Paul's Presbyterian Church in Prince Albert.  He is a Major with the Reservists and serves as the Deputy area Chaplin.  He has served in Afghanistan as Padre to our troops, and was the Chaplain for the Canadian Forces Operational mentoring Liason team. He was decorated by the Governor General Rt Honorable David Johnson through the reception of the Meritorius Service Medal.  Currently, Sandy serves as the Padre for the Royal Canadian Legion and as Chaplain for the Prince Albert Police Service.  He competes in an annual triathalon to raise money for under-privileged children to attend summer camp.  Rev. Dr. Sandy Scott is highly respected by all who meet him.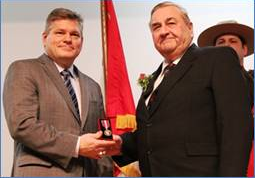 Robert (Bud) Strube has served over 25 years as Reeve to the Rural Municipality of Shellbrook.  Bud has worked tirelessly to make his community better.  Whether it is to clear snow, haul dirt or move gravel, the rural municipality can always count on Bud for a job well done.  He possesses a very generous heart for both his community and neighbours.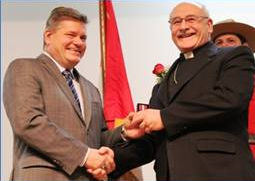 The people of Prince Albert are honored to have His Grace, Bishop Arthur Thévenot as the head of the City`s Roman Catholic Diocese.  His life experiences have presented him with a pronounced vision not only to develop his own abilities, but also to encourage others to cultivate their own time, talents and gifts.  His love of life is contagious.  His motto "That they may have life" expresses his desire and hope to bring about a growth of our own strengths and faith in order to create a better world around us.  Whether through his missionary work abroad or here in Canada,  Bishop Thévenot has impacted and influenced many to embrace life and all that it offers.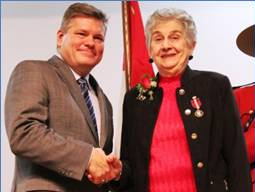 Clara Wiberg is a tireless volunteer  who is committed to her community.  She is an active member of the Royal Canadian  Legion.  She is passionate about Prince Albert, Saskatchewan and Canada.   A true patriot, Clara has supported local Canada Day events for over 60 years.  She has served on many executives committees and boards in order to make her community a better place to live.